Harry Potter Collectors Box Set Complete 8 Film Collection DVD Region 4 Special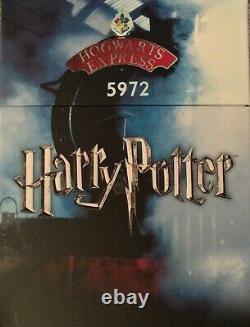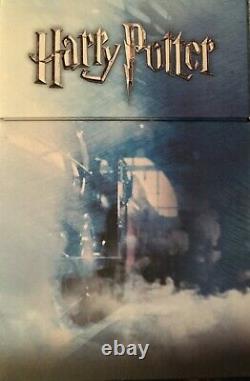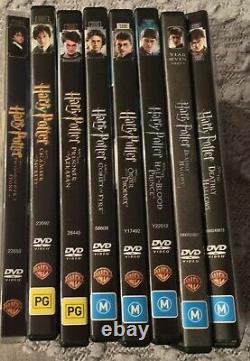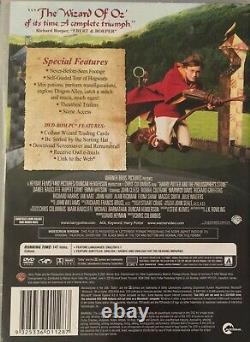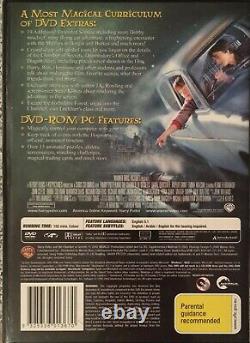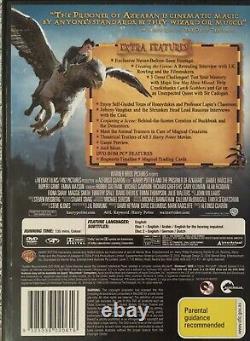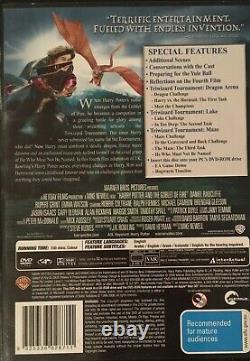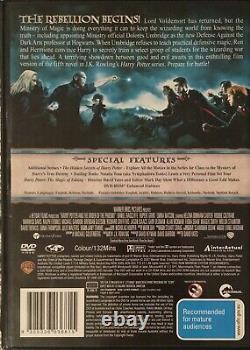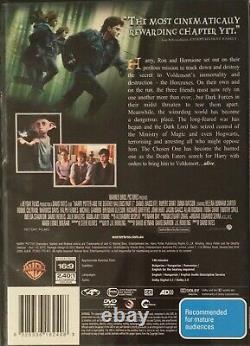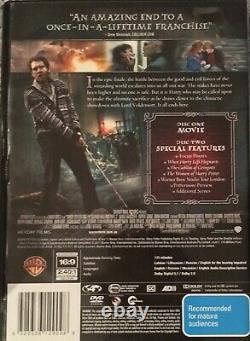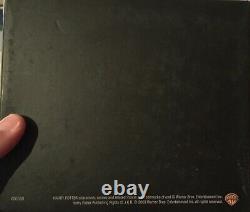 I cannot find this box set anywhere. HARRY POTTER AND THE PHILOSOPHER'S STONE: In this enchanting film adaptation of J. At Hogwarts School of Witchcraft and Wizardry, Harry embarks on the adventure of a lifetime.
He learns the high-flying sport Quidditch and plays a thrilling game with living chess pieces on his way to face a Dark Wizard bent on destroying him. For the most extraordinary adventure, see you on platform nine and three quarters! HARRY POTTER AND THE CHAMBER OF SECRETS: The next installment in the Harry Potter series finds young wizard Harry Potter (Daniel Radcliffe) and his friends Ron Weasley (Rupert Grint) and Hermione Granger (Emma Watson) facing new challenges during their second year at Hogwarts School of Witchcraft and Wizardry as they try to uncover a dark force that is terrorising the school. HARRY POTTER AND THE PRISONER OF AZKABAN: Harry, Ron and Hermione, now teenagers, return for their third year at Hogwarts, where they are forced to face escaped prisoner, Sirius Black, who poses a great threat to Harry. Harry and his friends spend their third year learning how to handle a half- horse half-eagle Hippogriff, repel shape-shifting Boggarts and master the art of Divination.
They also visit the wizarding village of Hogsmeade and the Shrieking Shack, which is considered the most haunted building in Britain. In addition to these new experiences, Harry must overcome the threats of the soul-sucking Dementors, outsmart a dangerous werewolf and finally deal with the truth about Sirius Black and his relationship to Harry and his parents.
With his best friends, Harry masters advanced magic, crosses the barriers of time and changes the course of more than one life. Directed by Alfonso Cuaron and based on J. Rowling's third book, this wondrous spellbinder soars with laughs, and the kind of breathless surprise only found in a Harry Potter adventure. HARRY POTTER AND THE GOBLET OF FIRE: When Harry Potter's name emerges from the Goblet of Fire, he becomes a competitor in a gruelling battle for glory among three wizarding schools - the Triwizard Tournament.
But since Harry never submitted his name for the Tournament, who did? Now Harry must confront a deadly dragon, fierce water demons and an enchanted maze only to find himself in the cruel grasp of He Who Must Not Be Named. In this fourth film adaptation of J. Rowling's Harry Potter series, everything changes as Harry, Ron and Hermione leave childhood forever and take on challenges greater than anything they could have imagined. Fearing that Hogwarts' venerable Headmaster, Albus Dumbledore, is lying about Voldemort's return in order to undermine his power and take his job, the Minister for Magic, Cornelius Fudge, appoints a new Defence Against the Dark Arts teacher to keep watch over Dumbledore and the Hogwarts students.
But Professor Dolores Umbridge's Ministry-approved course of defensive magic leaves the young wizards woefully unprepared to defend themselves against the dark forces threatening them and the entire wizarding community, so at the prompting of his friends Hermione and Ron, Harry takes matters into his own hands. Meeting secretly with a small group of students who name themselves "Dumbledore's Army", Harry teaches them how to defend themselves against the Dark Arts, preparing the courageous young wizards for the extraordinary battle that lies ahead. HARRY POTTER AND THE HALF-BLOOD PRINCE: During Harry Potter's 6th year at Hogwarts, Lord Voldemort is tightening his grip on both the Muggle and wizarding worlds and Hogwarts is no longer a safe haven.
Harry suspects perils may even lie within the castle, but Dumbledore is more intent upon preparing him for the final battle fast approaching. Together they work to find the key to unlock Voldemorts defences and, to this end, Dumbledore recruits his old friend and colleague Professor Horace Slughorn, whom he believes holds crucial information. Even as the decisive showdown looms, romance blossoms for Harry, Ron, Hermione and their classmates.
Love is in the air, but danger lies ahead and Hogwarts may never be the same again. This item is in the category "Movies & TV\DVDs & Blu-ray Discs". The seller is "tristarose0" and is located in this country: AU.
This item can be shipped worldwide.
Season: Complete Series Box Set
Format: DVD
Features: Additional Scenes/Uncut, Commentary + Behind The Scenes Featurette, Alternate Endings, Commentary, Deleted Scenes
Release Year: 2009
Actor: Daniel Radcliffe
Language: English
Movie/TV Title: Harry Potter
Region Code: DVD: 4 (AU, NZ, Latin America...)
DVD Edition Year: 2009
Leading Role: Harry Potter
Rating: M
Edition: Widescreen, Box Set, Collector's Edition, Director's Cut, Extended Edition, Limited Edition, Special Edition
Genre: Sci-Fi & Fantasy
Region: 4
Sub-Genre: Adventure, Apocalyptic, Fantasy, Thriller, Magic, Witchcraft