Patronous Series Harry Potter Mystery Wands Complete Set 9 Wands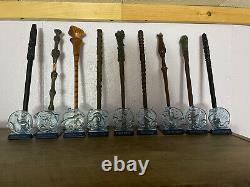 Indulge in the magic of Harry Potter with this complete set of 9 mystery wands from The Noble Collection. Each wand is intricately crafted to perfection, inspired by the beloved characters from the franchise. Whether you are a collector or a fan, these wands make for a perfect addition to your Harry Potter memorabilia collection. Immerse yourself in the world of fantasy with these superbly designed wands made in China.
The Patronous Series is an exceptional set of wands that will transport you to the magical world of Harry Potter. The wands are suitable for all Harry Potter enthusiasts and collectors.
Add them to your Harry Potter themed collection today!