Death Eater Series Harry Potter Mystery Wands Complete Set 9 Wands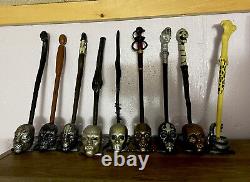 Experience the magic of the Death Eater Series with this complete set of 9 Harry Potter Mystery Wands. Each wand, crafted by the Noble Collection, is a unique addition to any Harry Potter fan's collection. Made in China with high-quality materials, these wands are perfect for cosplay, display, or simply as a collectible item. As a fan of the Harry Potter franchise, you'll appreciate the attention to detail put into each wand in this set.
From the intricate designs to the high-quality construction, these wands are a must-have for any collector. Bring a piece of the wizarding world into your own home with this complete set of Harry Potter Mystery Wands.