Harry Potter Owl Post Box Set (Childrens Hardback The Complete Collection) by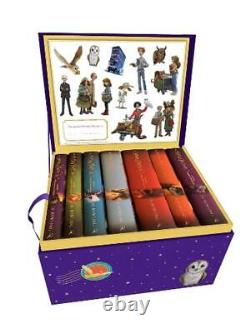 Harry Potter Owl Post Box Set (Childrens Hardback - The Complete Collection). A stunning wizarding package for readers to enjoy - the complete collection of J.
Rowling's Harry Potter adventures presented in hardback, with fun character stickers! This starry book trunk, decorated with magical owls and postmarks, is the ultimate way to escape to Hogwarts! Seven beautiful hardbacks are collected inside, featuring spectacular cover illustrations by Jonny Duddle, as well as quizzes, listicles and fun facts at the back of each story. There's even a special name label for readers to personalise their own Harry Potter set. Rowling's unmissable series has sparked a lifelong reading journey for children and families all over the world - Harry's adventures alongside his friends Ron and Hermione are filled with wonder, spells and surprises.
This Owl Post box set is a little flash of magic in book form; a collection to grow up with, read and re-read, treasure and keep. Get ready to lose yourselves in the greatest children's story of all time. Seven magical stories, one epic adventure. Rowling is the author of the enduringly popular Harry Potter series, as well as several stand-alone novels and a bestselling crime fiction series. After the idea for Harry Potter came to her on a delayed train journey in 1990, she plotted out and started writing the series of seven books and the first, Harry Potter and the Philosopher's Stone, was published in the UK in 1997. The series took another ten years to complete, concluding in 2007 with the publication of Harry Potter and the Deathly Hallows. Smash hit movie adaptations followed. To accompany the series, J. Rowling wrote three short companion volumes for charity: Quidditch Through the Ages and Fantastic Beasts and Where to Find Them, in aid of Comic Relief and Lumos, and The Tales of Beedle the Bard, in aid of Lumos.
Fantastic Beasts and Where to Find Them went on to inspire a new series of films featuring Magizoologist Newt Scamander. Harry's story as a grown-up was continued in a stage play, Harry Potter and the Cursed Child, which J. Rowling wrote with playwright Jack Thorne and director John Tiffany, and which is now playing in multiple locations around the world. Her latest children's novel, The Christmas Pig, was published in 2021.
Rowling has received many awards and honours for her writing, including the OBE and Companion of Honour, the Hans Christian Andersen Award and a Blue Peter Gold Badge. She supports a wide number of humanitarian causes through Volant, and is the founder of the international children's care reform charity Lumos. Rowling lives in Scotland with her family. Grand Eagle Retail is the ideal place for all your shopping needs! We are unable to deliver faster than stated. International deliveries will take 1-6 weeks. Please contact Customer Services and request "Return Authorisation" before you send your item back to us. We cannot take responsibility for items which are lost or damaged in transit.